Thursday, November 21 2019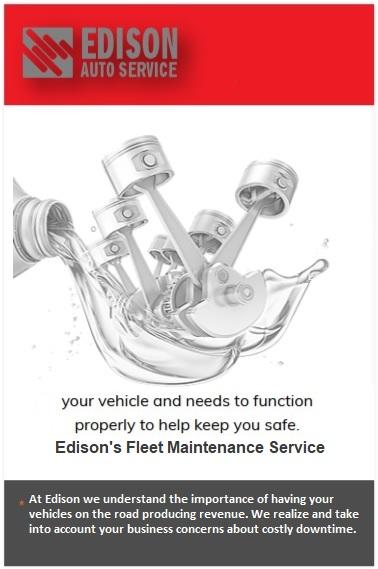 Our objective is to offer the best services available at affordable prices

to get you back on the road in no time

Since 1980, Edison Auto Service has provided the Lee County area motorists with comprehensive auto repair services including Air Conditioning and Heating Repair, Brakes Fort Myers, Diagnostics, Driveline, Electrical / Computer Service, Exhaust, Filters, Fleet Service (Gas or Diesel), General Maintenance, Heavy Duty / Off Road Service, Internal Engine Service, Lube, Oil, Preventative Maintenance, Spark Plugs, Shocks, Timing Belts, Tires, Towing Services, and Transmission Service.

Our experts have the knowledge to service and repair even the most challenging auto problems on all makes and models of domestic and import vehicles. We use the latest technology to assess the situation and offer you alternatives. We guarantee all of our work, and know you'll be happy with the outcome. Trust Edison Auto Service with your car, truck, or van. To make an appointment, please call us at 239-778-0611, email us at info@edisonautoservice.com or submit our Contact form below.
Mon 8:00 am-5:00 pm

Tue 8:00 am-5:00 pm

Wed 8:00 am-5:00 pm

Thu 8:00 am-5:00 pm

Fri 8:00 am-5:00 pm

Sat closed

Sun closed
MECHANIC IN FORT MYERS
https://edisonautoservice.com/home/
Languages Spoken: ENGLISH & SPANISH
My name is
Mark Cox
(Owner)
I live in
Fort Myers
,
Florida
My name is
Daniel "Dan" Lewis
(Assistant Manager at Edison Auto Service)
I live in
Fort Myers
,
Florida
https://www.totalping.com/pin.phphttp://www.free-web-submission.co.uk/http://feedvalidator.org